Hi all,
As you all know, I've been working hard this year to change some perspectives, root out some lies, and get healing.
Now as I've said previously, I've been making progress in those areas, but today I wanted to focus not on the why or what, but the how. So while I'm still growing in all of these areas, here are some recent tools I've been using to gain and keep my ground.
Fill in the blanks
One of the most interesting exercises I've taken up recently has been examining how I "fill in the blanks" when reading my Bible.
I'll give an example. Ephesians 1:17 starts "I keep asking that the God of our Lord Jesus Christ, the glorious Father, may give you the Spirit of wisdom and revelation, so that you may…"
Now, stop right there and fill in the blank. For me, up until recently, I probably would have said something along the lines of "discern His will" or "do the right thing." But that's not what the verse says. It finishes with "know him better."
That's right. The first point isn't to have wisdom and revelation to know what to do, but to know Him. Similarly, where I would have finished verse 18, "I pray also that the eyes of your heart may be enlightened in order that you may…" with something along similar doing or performance based works, what it actually says is "know the hope to which he has called you, the riches of his glorious inheritance in the saints, and his incomparably great power for us who believe."
Note that what I can do for God, the tasks He's somehow queued up for me to finish are not mentioned here. The focus isn't on me at all, but on God, His authority, grace, mercy, and power, and works of any kind aren't even brought up until halfway through chapter 2, 14 verses later.
Now, I could dive into what I think all that means, how works are a response to that knowledge and grace and such, but that's not the point of this post. The point is that what I fill in tells me a lot about what I think about God–and what I think He thinks about me. And being able to recognize those things (and when the assumptions behind them aren't true) has had and is having a profound effect on how I view what I do on a day to day basis and what I think God thinks about it.
Re-casting
Another recent addition to my tool kit has been re-casting, or what I like to call "Take 2." The basic technique here is to think of a situation in which I was hurt (inadvertently or not), and then go through the situation again, swapping out whoever it was that hurt me for God.
For example, if someone was mean to me and I'm feeling down about myself, I replay the situation, replacing what that person said or did with what I think God would say or do.
The benefits of this are five-fold.
Firstly, because when so much of who I think God is/what I think he thinks/feels is shaped by my relational experience with others, this clears away that clutter and helps solidify the distinction. While others may have stepped on my value or the things I care about, God never will. While others might not see value in me, God does. By replaying these situations with God instead of people, I can reset my poorly constructed understanding of God, myself, who He is, and how He views, thinks, and feels about me.
Secondly, by going through the situation with God, it opens up a conversation. In having to think about what I think God would have done in that scenario, it opens me up to talking to Him about how he thought/felt about it in the first place, and by extension, our own relationship in and outside of it.
As a result, I can gain healing. I'll give an example. When I was young, I had a friend walk away from me, basically saying she wanted to hang out with other people. That, though I've healed a great deal from it since then, had a profound impact. But when I rethink through that situation with God, when I imagine Him telling me He loves spending time with me, that He would love to play with me and will never leave, that heals something in me in a deep way. I've only had the courage to do this with a few things so far, as it can get a little intense (in that I am easily overwhelmed, not that I had any significant trauma, though I suspect this would be equally helpful if not more so if that were the case), but the benefits I've reaped from it have been amazing.
This technique also helps me to recognize that God has always been there, that He always has been saying those things, and that He was never far in the first place.
And, at least I assume, it's going to help me forgive. To be honest, since this is all so new, I haven't quite gotten there with any of these, but knowing that the other things people have done that have hurt me in the past don't matter, that God has always loved me in the midst of all of those situations, I assume that forgiving them is going to be easier. Hopefully someday soon I'll be able to share that fruit.
Fighting back
As a final strategy, I'd also like to highlight something I've been trying to master for a while now, which is simply having the courage to fight back.
One of the things I've noticed is that it is easy for me to be hard on myself. I can quickly get frustrated with myself or my seeming lack of progress, and when I do, it's easy to fall under guilt or condemnation.
But one of the things I've been trying to learn is to fight back against those thoughts and feelings. As the women's pastor at our church recently pointed out, one of the easiest ways to do that is to arm myself with truth (specifically with scripture, though for me, it doesn't have to be that).
For example, if I recognize that the negative voices in my head aren't me, that they are the enemy, then when I notice them picking on me, I can recognize that they are all just lies. And when I know who I am, that I am a royal princess in the kingdom of God and a warrior princess at that, then those negative claims seem even more ridiculous. Add on to that the fact that the enemy has no right to be getting up in my business and telling one of God's daughters that she's unworthy and now we're cooking with fire.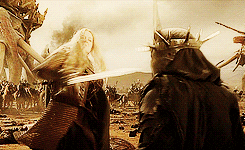 So on a practical level when I start feeling down, when I remember that I am a child of God, that He loves me, and that I have value regardless of any circumstance or mistake I could make, my response to those voices quickly changes from "that's true" to "get out." When I know who I am, I can tell any of those demons or lies or whatever you want to call them to get lost, because I am a princess and they don't have the right.
An analogy I've often used is being like a sleeping lion. Do I always make full use of my power? No. Do I still have it and do things get real rough if someone pulls on my tail long or hard enough? Oh yes.
I just need to get better at learning how not to fall asleep, or better yet, to rest in my Father's shadow rather than my own.
Anyway, these are some of the strategies I've been using to take and hold ground in my own life. They've been really helpful to me in the last few months, and I hope they can help you too.
---
So, how about you? What are some strategies you've used to grow in your spiritual walk? What fruit have you seen? Let me know in the comments below, and if you want more content like this, feel free to follow me here on the blog or at the social media links below. Thanks for reading!