Hi All,
Well, it's that time of year again, and while I'm typically not much of a resolution's gal, as we are moving into a new decade, it does seem particularly appropriate to reflect and look forward. So, without further ado, here are my goals for 2020.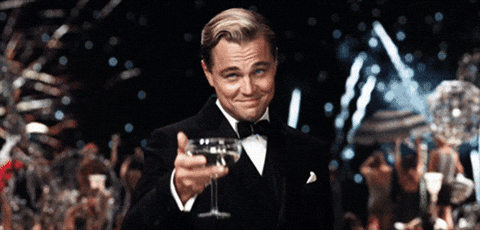 Have a book ready to pitch to agents
So, technically, this one is already done. I have a couple of books that are ready to pitch already if I just put in the time to make said pitches (for those foreign to the book publishing world, you pitch books to agents, who then pitch your books to publishers if you try to publish the traditional, non-indie route). But there's actually a bit more to it than that. What I'm actually hoping to do is to have something that is not only ready to pitch, but is in a form that would be ready to send if said agents heard the pitches and wanted to read it.
My deadline for this is by the time I turn thirty, which for those keeping score, is more or less by the start of November this coming year, or, for those paying super close attention, about ten months from now.
While I seem to be doing well on this so far, with my current draft doing pretty well up until the part I'm struggling through now nearly half-way through the book, the third quarter or so of a book is also the hardest for me to write, so we'll see.
Develop a plan for achieving goal one
This might seem a little obvious or at the very least necessary for goal one, but I think it's important for me to set it apart because honestly, it's a really key component that is difficult in a different way than just sitting down and putting in the work. Mainly because planning long term projects is difficult for me in general, and because it's even worse when it's for something that seems to have such an up and down flow of progress like writing does, where getting caught on a single plot snag could set me back by weeks if not months.
But, that's also why step one of creating this plan is just de-mystifying the entire process. Because if I tell myself I could get set back by weeks over something small, if I tell myself that muse is a fickle creature who could up and fly away for months at a time, I'm more likely to make excuses for her to fly the coop, to say nothing of not just getting my butt in the chair and doing the work (re-developing healthy habits being an additional sub-goal of this process).
The main trick with this goal is that I'm not really sure how to go about it, both in making the plan itself or what the plan should look like. Because yes, I can set goals and deadlines for myself, but I'm not really sure what's reasonable for those goals yet, or how long each will take.
If anyone has any thoughts on this, please let me know.
Get back into dancing
As regular followers of this blog will know, I recently started doing Zumba, and I love it. I love the sheer joy of movement, I love how good it feels to exercise (especially right after class), I love how empowered and strong I feel while I do it, and I like the accountability that paying for a health program brings.
But it's also not my favorite kind of dance, because in my dancing heart of hearts, I love ballroom.
Now, I'm not sure how I can get back into ballroom to the degree I would like, either financially or with my schedule, but it is something I hope to do eventually. I think even if I stick with Zumba for now to accomplish this goal, that will be an improvement (a more general fitness goal to be to sustain the weight loss I had last year and to continue improving my health), but the stretch goal would be and probably always will be ballroom.
Read more books
So, this one is another sort of weird one, because this year I actually read 40 books (by Goodreads standards, which is what I always use to measure since it's easy to track ), but at the same time six of those were single issues of comics, and twenty-two of them were single volumes of manga, which I can typically read in about an hour.
And that's certainly not to say that there's anything wrong with any of those. Murder Falcon, which accounted for the comics, was a phenomenal short run comic with so much more heart, epicness, and feeling than one might imagine from the name (okay, maybe you'd pick up the epicness from the name), and Promised Neverland and The Girl from the Other Side, two of the manga/graphic novel series I binged on throughout the year are both extremely well written, thoughtful, gorgeous, and lean. The plotting in both is so tight and smooth, it's a high standard for me to model my own writing on.
Except, I don't write either comics (I wish) or manga. So while I love reading all kinds of things like that for fun, it's not necessarily helpful to me as a writer to only be reading that. And, nothing against them, but since they are so short, it does feel a bit like I'm inflating my numbers sometimes.
So I guess the goal isn't really to read more books from a count standpoint, so much as reading more that might better help me to grow more as an author or person than I might if I were strictly reading the things I primarily read now, e.g. in my genre, in a broader scope than I usually read, about writing or faith, non-fiction, etc.
---
So those are my main goals this year. What about you? What goals do you have heading into the next year/decade? How did you do on this year's goals? Any advice or tips as I head into my 2020? Let me know in the comments below, and if you want more posts like this about my life, faith, writing, or recommendations (warning, nerdiness abounds), feel free to follow me here or on social media (currently on a break from those) using the links below or in the side bar. Thanks for reading and happy new year! I'll see you in 2020!